Ever wish your content would spread like weeds? There are some unique visual marketing tactics you, as a brand, can implement to grow your audience engagement. Visuals are used to enhance your content marketing message and the featured header image is no exception. Can you tell what has been captured in the photo?
Just over 20,000 posts are published daily on WordPress.com alone and Facebook users share 2,460,000 pieces of content every minute. The infographic below by Domo highlights further that digital data is generated every minute, emphasizing just how vast the field of content being delivered can be.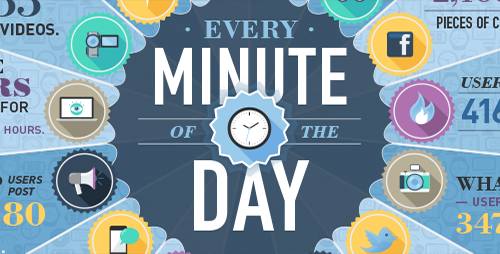 On the web, there are few things more discouraging than a big block of text. As a marketer focused on growing my social media connections, a lack of images being shared on the account or images of poor quality, usually prevents me from reciprocating a follow/like.
Vision is one of the most researched areas of neuroscience. It is a known fact, we are "genetically wired to respond differently to visuals than text".
My preference to seeing visual information over text makes sense as the brain processes images 60,000 times faster than text. This makes visual content an incredibly effective medium.
[Tweet "The brain processes images 60,000 times faster than text"]
Column Five created an excellent infographic to understand why the brain loves images.
On social media, there is no disputing that the use of visual marketing can be used to stand out and get more social shares.
Visual marketing updates in social media get:
Given these statistics, it's no surprise that visually based social platforms such as Pinterest, YouTube, and Instagram are gaining popularity.

Pinterest, one of the fastest growing social networks in history, is the second-largest driver of social refers, behind only Facebook according to the latest Shareaholic Social Media Traffic Report. Pinterest is an amazing resource for finding visual inspiration and can be viewed as a lifestyle search engine.
[Tweet "Pinterest can be viewed as a lifestyle search engine"]
Realizing the potential it has to offer business users, we've recently started our own InnovaMap Pinterest account. We hope you follow us  as we strive to share resources on our content marketing strategies and pins to engage the brain!
Increasingly, companies are turning to visual marketing to establish their brands and engage their audience. It is crucial, however, that brands create visual content that is not only relevant but that also resonates with their target audience.
Data insight and a sound understanding of your target client persona will ensure that you are more strategic and able to amplify your results.
You need to ensure you are implementing proven best practices with respect to visual marketing such as:
Use high-quality photos
Incorporate at least one compelling and relevant visual which helps your audience better connect and understand the content being shared
Create different types of images to communicate visual stories and package information in a format that is more easily consumed, such as:
• Infographics
• Other data visualizations,
• SlideShare presentations
• Screen shots
• Memes
• Quote graphics
• Videos
4. Include and share images frequently on all social media platforms but ensure you are not violating any copyright laws.
5. Use questions paired with visuals to engage your audience
Similar to the "almost" unrecognizable photo of a dandelion I chose as the featured image (I would have never guessed right), brands can use visuals as key differentiators and avoid getting lost in and amongst the weeds.
[Tweet "use visuals as key differentiators and avoid getting lost amongst the weeds"]
Incorporating even one of the following 7 unique visual marketing tactics will help your visual brand transform from a common dandelion into something unique, like Echinacea, the world's most important medicinal herb.
[Tweet "transform your marketing from a common dandelion into something unique like Echinacea"]
7 Unique Ways to Power
Your Content Marketing with Visuals
Tip #1 – Optimize Images for Social Media Platforms
Optimizing images for each social network you are targeting will provide your account(s) with a professional look that is un-matched by your competitors.
Even the pros don't always practice visual optimization and often images are cut off. In Twitter's case, the missing edge of the image is often where the calls-to-action (CTA's) reside.
To streamline your efforts create at least 2 image shapes/orientations for your posts: square, landscape and/or portrait, to cover most of the major social networks. Ideally you will want to create images for each social platform especially when you are posting directly.
A comprehensive 2015 Social Media Image Sizes – Cheat Sheet by SetupABlogToday.com is a great reference.
Social Media Examiner posted an article on how to create one image to share across three social channels – Facebook, Twitter and LinkedIn which can save you precious time.
The next three tips were shared by one of the top visual content marketing influencers, Donna Moritz. Although her tips are primarily for Twitter, some translate well into other social networks.
Tip #2 – Multiply Your Images
Image collages on Twitter (up to four images can be added to a tweet) and adding multiple images to a Google+ post (can also resize, reorganize, enhance, rotate and add text to an image within the post) can have a significant impact by catching your audience's attention and provoking more engagement.
Multiple images detailing how to steps, or a collage for a blog post also, do very well on Pinterest.
General Electric is an example of a brand capitalizing on this tactic. I still can't make the 3D images appear!
Tip #3 – Sending Personal Videos on Twitter
I have not received one myself but with videos generating 3x as many monthly visitors to a website as other content, it is no wonder that brands or individuals would chose this medium to make a more personal connection though a love of video storytelling.
Tip #4 – Eye Catching Images Through the Use of Shapes or Content
I am particularly excited about this tip as I think it is the most unique and easy to implement. Gym Navigator uses a circle image regularly for their posts. It not only completely grabs the user's attention but it might become part of their visual brand image enabling their audience to automatically identify with the circle shape consequently making a stronger connection to their brand.
Of course a particular shape or piece of content needs to resonate with your audience and fit in to your overall content marketing strategy.
TIP #5 – Brand Your Images
If you are going to take the time to create unique, one-of-a-kind images be sure to brand them. Stamping images will ensure that when you execute your visual marketing strategy and the images go viral you solidify your brand and business regardless of what social media platform is used.
Another visual marketing icon is Peg Fitzpatrick whose choice of images, style, and colour has her brand easily recognizable by her fans. She leaves nothing to chance though, with her logo added to the bottom of her visuals.
TIP #6 –Animated GIFs
Some animated GIFs might seem a bit distracting but if used in the right context, they can be very functional and can enhance the creator's visual storytelling efforts. It may even add further insight, as detailed in a medical illustration's blog, which used animation as a teaching aid to illustrate the anatomy of the parotid gland and its surrounding anatomy.
One can even go beyond your typical infographic and create "gifographics".
TIP #7 – Using Emojis
This tactic may seem a like silly but used in the right way can really help define your content and add an additional layer of emotion or replace some words altogether. This is particularly beneficial when you are working with a limited number of characters to convey your message such as tweets or brand identity sections in some social network.
With the right emoji brands can strengthen their visual marketing strategy as in the case of the Travel Tester on Pinterest. The plane emoji invokes synergy with her boards focused on her travel blog.
Emojis can have a bigger impact within the pin description to break up text that can't otherwise be formatted.
I have also seen this used on Periscope, to catch the viewer's attention as they scroll through live streams in the global list.
Emoticons are actually over 30 years old but some say it`s the rise of the smartphones that have led to the flourish in their popularity. If you need a reference guide of what they all mean then we have got you covered in the Emoji to English Dictionary.
No matter where (or how) you choose to incorporate visual marketing, the time to start is definitely now.
With a clear understanding of your target audience and overall content marketing objectives, you can leverage some of these visual marketing tactics to start growing your target audience engagement.

Jennifer DalCin, Marketing and Social Media Manager, InnovaMap
We are now on our summer editorial schedule posting our blog every other week.
Enjoy your summer holidays!
InnovaMap is an Ottawa based content marketing firm, specializing in the health industry.
Let`s get connected!  Follow InnovaMap on Twitter, Google+, like us on Facebook, and connect with us on LinkedIn for more great industry tips!
Contact us to learn more on our strategic and scientific approach to client personas that drive your online content marketing and social media – The Science of Content Marketing.